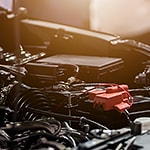 At Porsche Cincinnati Kings in Cincinnati, OH, we always want to ensure that our community is well-educated about their vehicles under the hood. Extreme temperatures can do a lot of damage to the interior and under the hood of most vehicles. So before the deepest part of the Season, make sure that your battery is ready for the temperatures to come.
In freezing weather, a battery can have a lot of strain because it has the most capacity but needs to work harder to start your car and keep everything else is running. You also use the battery more because it powers things such as your heater or heated seats.
When it is scorching outside, a battery is subjected to evaporation from the heat. When evaporation happens, it can mean that the battery fluid ultimately diminishes and the battery is damaged, requiring a replacement.