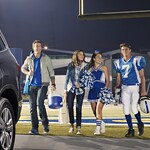 One of the great things about growing up is getting your first car! If you are looking for a great vehicle for your teenager, at Porsche Cincinnati Kings in Cincinnati, OH, we have a huge selection of safe cars for first-time car owners. It is important to get a safe vehicle as well as a vehicle that is old enough that it doesn't break the bank!
Consider looking at safety ratings as you look for a vehicle for your teenager. You may also want to choose a larger vehicle, such as an SUV because they are larger to be a safer choice for a first-time driver.
If you are interested in a lower payment for your teen's vehicle, look at used vehicles at least three years old. You will also save on insurance if the vehicle is older.