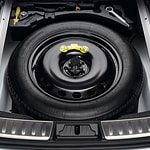 If you've ever had a flat tire, you know the importance of having a properly working spare on hand. Even if you don't change it yourself, you should know how yours works. Here at Porsche of Kings Automall, we try to educate our Cincinnati, OH customers about the difference between a compact spare and a full-size spare tire.
Each of these types has its own merits. A compact spare, or a donut, is great for small vehicles. It's light and doesn't take up much space. However, it also comes with some restrictions with its use. Drive carefully and a bit under the speed limit on a donut. Also, you shouldn't drive on it for many miles. Replace it immediately.
A full-size spare tire can handle more regular use. It's also sturdy and durable enough for larger vehicles. It will take up a lot of room and may not last quite as long as your other tires.