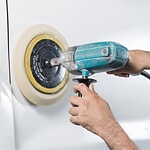 Do you wax your car? If not, the team here at Porsche of Kings Automall thinks you might want to consider it. Waxing your vehicle just a few times a year offers a number of benefits. Take a look at what car wax is and why you might want to use it.
There are different ingredients that go into car wax, but the main one typically is some kind of wax. There are natural sources of wax such as carnauba, beeswax, or palm. You can also get synthetic waxes such as those made from silicone. No matter which kind you purchase, it is likely to be mixed with solvents and oils to make it more malleable.
Car wax protects your car. It puts a barrier between your vehicle's clearcoat and the elements. Pollutants in the air and water are damaging to the exterior. So are the sun's rays. In addition to adding protection, wax also brings out the luster of your paint job.