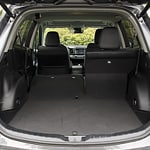 Much like any sedan or coup, the typical crossover is built on a unibody frame. This allows for easier handling and a smoother, more comfortable ride overall. Cincinnati, OH drivers who are on the fence about upgrading to SUVs can get the extra seating and additional cargo storage they need, without having to commit to massive vehicles. Before you check out our options in crossovers at Porsche Cincinnati Kings, we want to help you determine whether this is the right auto type for you.
How Many Passengers Do You Need to Accommodate?
SUVs often come with nice-sized, third-row seats and can comfortably accommodate between seven and eight passengers. Surprisingly, although crossovers are slightly smaller than SUVs, there are a number of crossover models that come with third-row seats as well. However, in a crossover, third-row seating is often only large enough for holding two, relatively small passengers. If you'll be driving around lots of teenagers or adults, you might want to opt for something a bit more spacious.
Are You Ready to Sit Higher Up?
Crossovers are the perfect choice for households and families that can no longer pile comfortably into a single car. However, they're also small enough to accommodate more modest groups, and without greatly increasing overall fuel costs. Thus, even if space isn't a major concern, a crossover could still be an excellent choice. Much like SUVs, crossovers put drivers in higher and more commanding positions while on the road.